Reactive energy is necessary for some electrical equipment to properly function, normally those with a certain degree of magnetism. This equipment uses that energy and then returns it, so it does not produce a function but it must be generated and transported.
We talk about energy because it is the way in which it is measured and charged in electricity bills, but to explain reactive energy one must look at it as power. The difference between power and energy, in short, is the energy consumed by an electric machine is calculated by multiplying the time of use by its power. Typically, power is measured in kilowatts (kW) and energy in kilowatt hours (kWh).
Example: if a 2 kW machine is connected and it is running for 1 hour, the energy consumed will be 2 kWh. If instead of 1 hour we connect it for 1/4 hour, the energy consumed will be 0.5 kWh.
In other words, reactive power is like beer foam. It takes a place in the jar and is important for that good look, but it doesn't quench your thirst.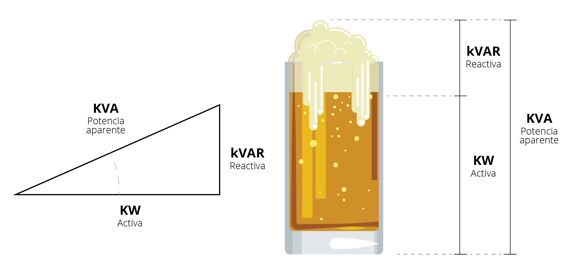 In electrical machines, the total or apparent power is divided into an active and a reactive component.
Active power. It is the real amount of power that the machine uses to operate.
Reactive power. It is a fluctuating power that is produced by the generation of magnetic fields, but it does not serve a useful function.
Apparent power. It corresponds to the power that the machine will demand for it to function, even if it does not fully use that amount. It is obtained from the vector sum of the other two components.
Amongst the equipment that usually consumes reactive energy, you can find the likes of: electric motors, fluorescent lighting, air conditioning or refrigeration systems, computers …
When is reactive energy paid for?
For small consumers (contracted power less than 15 kW) this term is not invoiced. In most private homes and small establishments this term will not be a problem.
For higher contracted powers, it is paid for when the demand for reactive energy exceeds 33% of the demand for active energy. It is measured and invoiced individually for each period, except in the off-peak period, which is exempt from this penalty. The price at which that penalty is paid will depend on how much the limit has been exceeded.
In the image above, you can see a billing example for a three-period rate. The penalty, as mentioned before, corresponds to reactive energy that exceeds the 33% allowed. In P3 (off-peak) there is no penalty.
The reactive term is added to the energy term, both constitute the variable term of the invoice. The Electric Tax (IE) and, later, VAT are applied to this term. If you are interested in learning more about the terms of electric bills, you can click here and see an article where we talk about it. If you are interested in receiving energy advisory services, do not hesitate to contact us.
More information about Crusol in our social network profiles
Imagen de portada: Foto de Fiesta creado por freepik – www.freepik.es