---
Prior study
We conduct a study to find out what is the best option for you based on your usual energy consumption

---
Tailor-made design
Based on the data obtained in the prior study, we design an installation that best suits you

---
Economic data
We give you all the details about how quick the installation will pay for its self and a forecast of what your new bills will look like

---
Energy advice
We check your current bill and offer alternatives to achieve more savings

---
We eliminate reactive energy
Problems with reactive energy? We install corrective equipment that completely eliminates it

---
Payment options
We offer financing options for those who do not have the necessary initial capital

---
Maintenance
We keep your installation in perfect condition. You'll be able to see at all times how well it's working

---
Cleaning
We offer cleaning services so that productivity does not decline over time
Collective

self-consumption
We are specialists in collective installations for self-consumption, this refers to one or more photovoltaic systmes that supply power to two or more users. We carry out a personalized study for each case, obtaining with great precision the exact proportion necessary for each user according to their energy consumption habits.
The new legislation provides different configuration possibilities for these types of installations (connected to indoor or outdoor networks, fixed or dynamic coefficient) we advise on what are the advantages and inconveniences of both, always offering the best solution.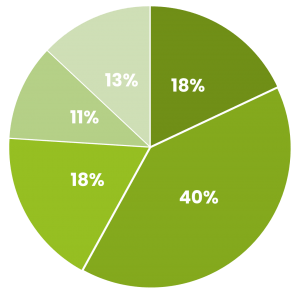 Data control
Detailed prior study: With simply one electricity bill and that customers permission, we conduct a prior study with an array of detailed information. Indicating all economic components and the behaviour of the photovoltaic installation.
We solve reactive energy: We carry out an analysis of the reactive energy and we propose solutions of how to get rid of it completely so that it does not get worse with your photovoltaic installation.