Graduates of the UPCT project the first self-consumption community photovoltaic installation in Cartagena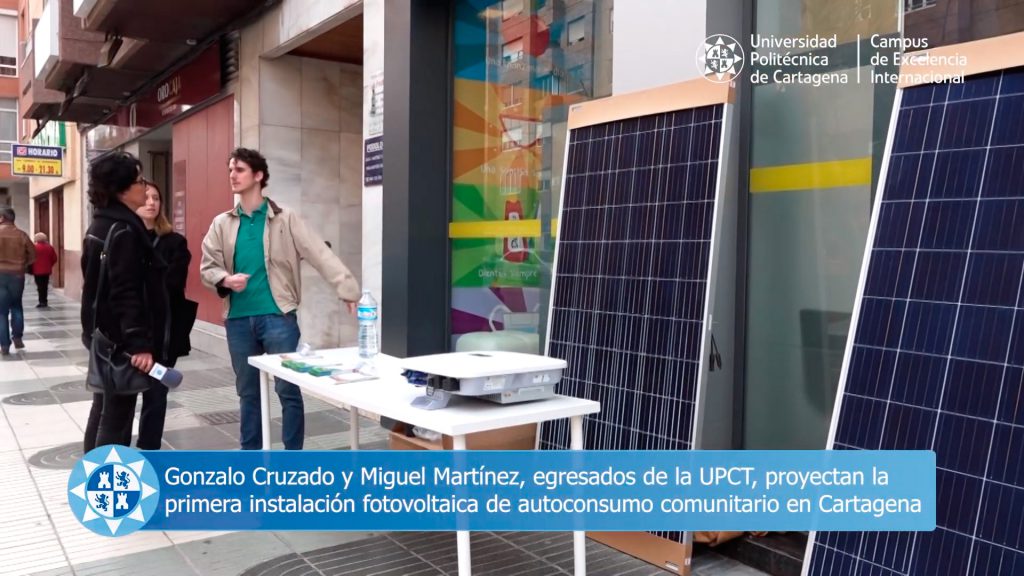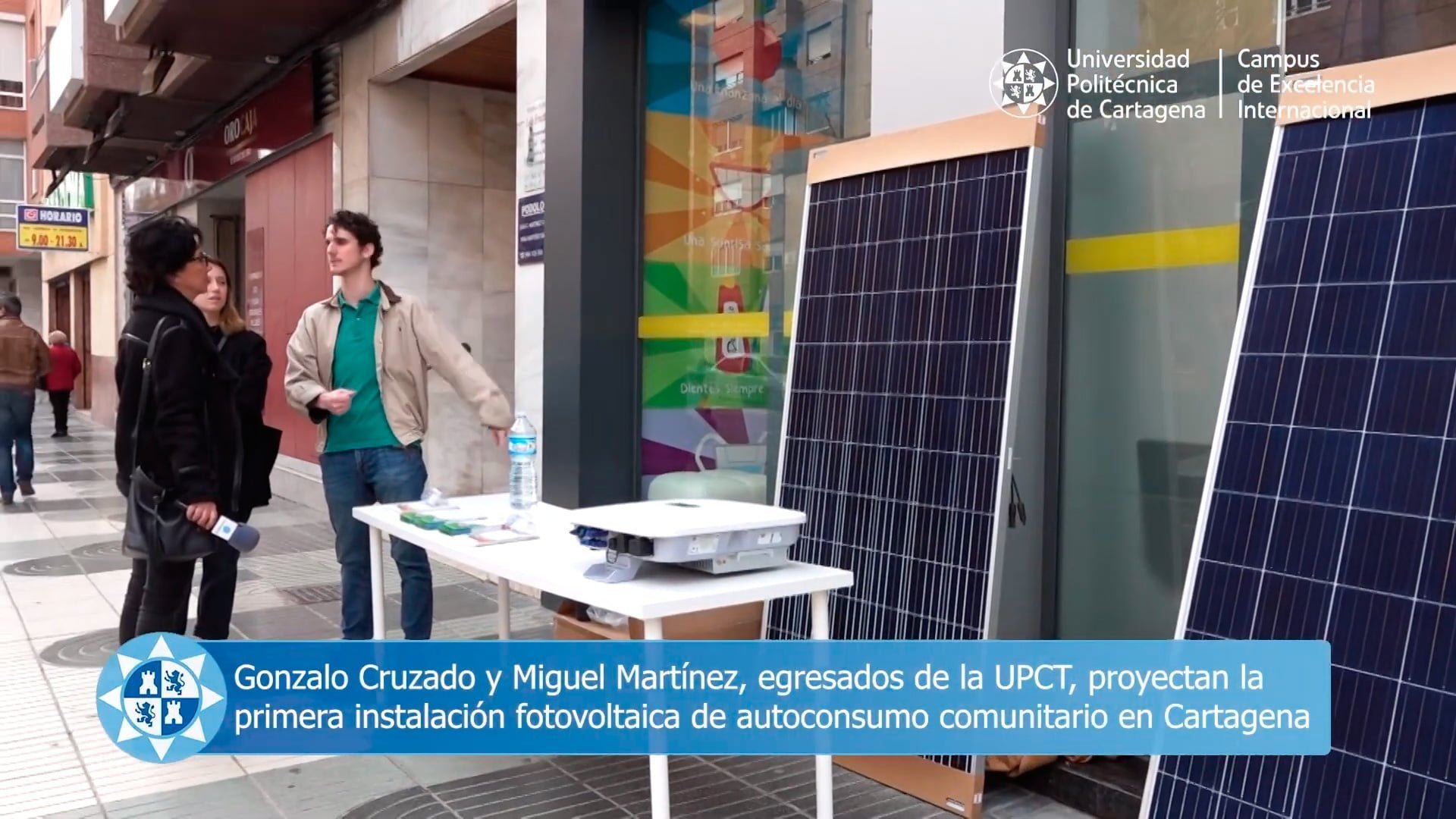 "Photovoltaic energy has arrived in Cartagena". This is the resounding claim of the engineers trained at the UPCT Gonzalo Cruzado and Miguel Martínez, founders of the Crusol. Company that has installed a photovoltaic energy generation system today on Reina Victoria Street to serve a community of neighbours. The first in the city that will benefit from the decree that since last year regulates and facilitates community electrical self-consumption.

The 24-home building will reduce their electricity bill by 63%. Their carbon footprint by 49% by using solar panels to generate the electricity consumed by the elevator. Hallway lights and water pumps of the property , among other electrical installations in common use. The neighbourhood community has invested around 3,000 euros, which will pay for itself in just three years.

"El resultado de la instalación en las zonas comunes demostrará su rentabilidad. Facilitará que los vecinos decidan extenderla para cubrir también la electricidad consumida en las viviendas", explica Gonzalo Cruzado. Rl mismo recuerda que basta con que apuesten por la fotovoltaica un 33% de los propietarios. El coste medio por vivienda para incorporarse al autoconsumo es de unos mil euros.

Engineers

The young engineers presented the project in a neighbourhood meeting, anticipating the results of the long-term photovoltaic installation and calculating all possible future invoices. «We handle millions of data bits,» says Miguel Martínez. Faced with a self-consumption decree that has radically changed the rules of the game, the UPCT alumni highlight the main novelties: even if photovoltaic panels are installed, the building remains connected to the electricity grid, so it does not need batteries and the energy generated but not consumed in the property it is sent back and sold to the grid.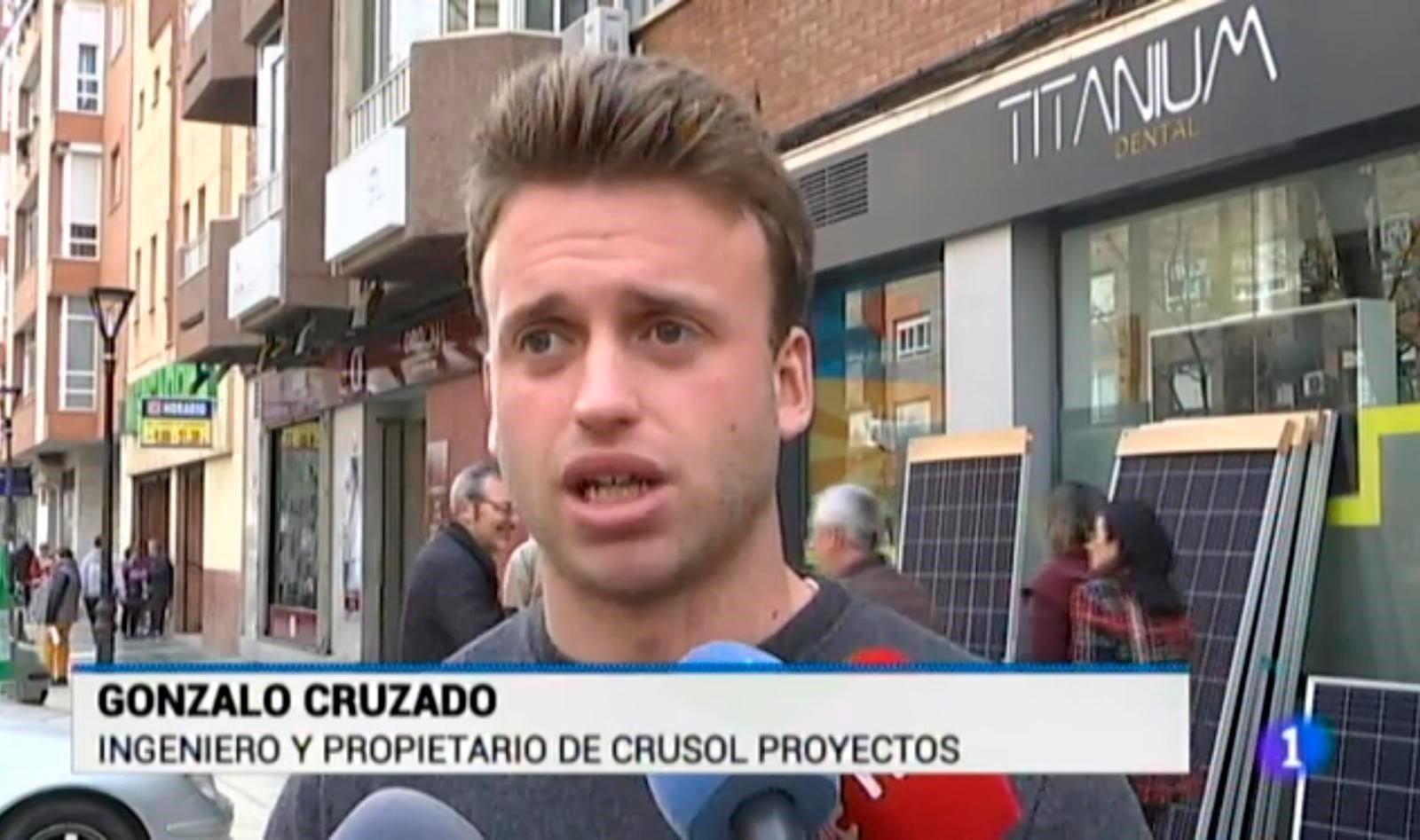 «Promoting electrical self-consumption, sustainability and energy efficiency is a way to give back to society for investing in our university education,» says Cruzado, highlighting the technical training obtained at the Polytechnic of Cartagena. «For the first time, it is more profitable to generate your own electricity than to buy it,» adds his partner, reminding that «equipment prices have dropped dramatically and there is no longer any need to invest in batteries, since excess electricity can be sold back into the grid » Both advocate changing the paradigm of the energy system, so that «cities stop being electrical sinks and become energy generators.»

Crusol, created just a few months ago, already has a portfolio of more than fifty clients and has carried out photovoltaic installations in individual homes, before leading the first milestone of community self-consumption in Cartagena. The company offers annual maintenance as well as cleaning of the solar panels, guaranteeing constant and correct operation. Gonzalo Cruzado has a degree in Industrial Chemical Engineering from the UPCT, in which Miguel Martínez studied a degree in Engineering in Industrial Technologies and a master's degree in Industrial Engineering.
fuente: upct.es